Do you wear contact lens? Do your eyes feel tired easily especially after spending so much time in front of the computer? Do you find it hard to sleep at night due to stress? If your answer is yes to any of the questions, then this post is for you. I have been wearing contact lens everyday for about 10 years now and my eyes get really dry and tired easily especially after a long day. I've read about how putting on steam eye mask is able to help your eyes to relax and decided to give it a try. I've tried out different brands of eye mask and finally found the one that works well for me. Hence, today's review is about *drumroll* Kao's Megrhythm Steam Eye Mask, which claims to be Japan's No. 1 mask. But before we continue, this is not a sponsored post. Everything here is based on my personal opinion about the mask.
This mask has a self warming technology at a comfortable heat of 40'c and it suppose to relax, refresh and relieve your tired eyes after putting it on for approximately 20 minutes. The mask warms up immediately after opening the packet. It has an ultra-thin material that fits perfectly around the eye contours. With the ear straps, it is easy to use at any position – lying down or sitting without being afraid that it will slip. Plus, the mask is disposable too, so it is more convenient and hygienic to use.
There are 5 different scents for you to choose from and they are Fresh Rose, Lavender-sage, Yuzu, Chamomile-ginger, and the unscented. There is also a Sakura scent, but it is limited edition. So if you like sakura, better get it soon before it runs out of stock.
What I like about this mask is that you can use it anytime and anywhere – before bedtime, while travelling, during breaks between work, after wearing contact lens the entire day… Basically, whenever you feel like it. Sometimes, we may have "overworked" our eyes without realizing it until we experience redness, sore eyes, or watery eyes. So why not take a 20 minutes break and put on the eye mask?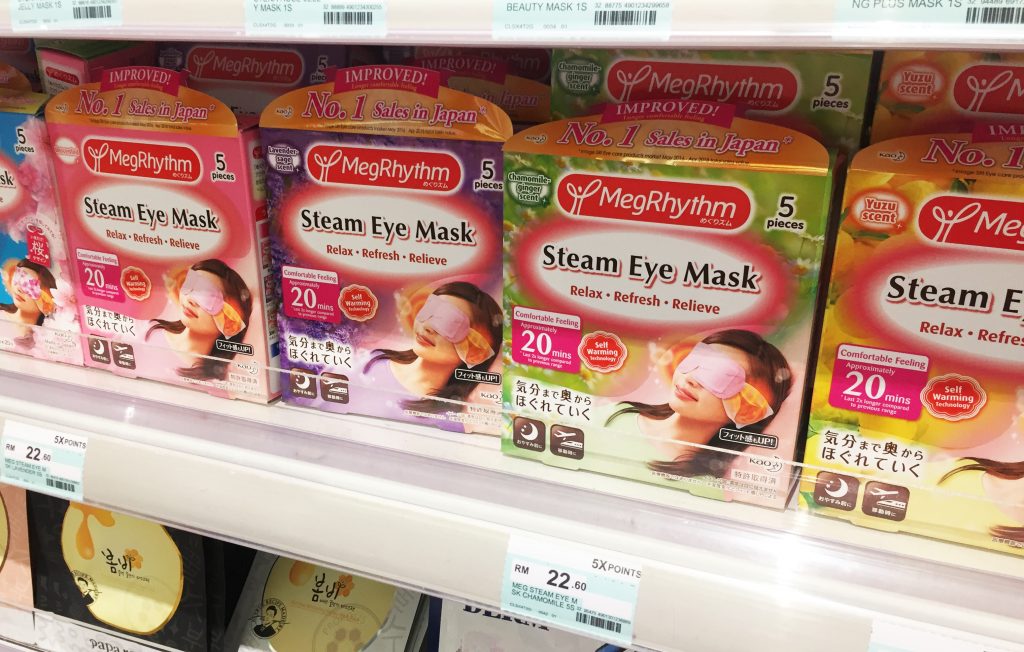 You can find this either in Watsons or Aeon Wellness. The price is the same for both stores, which is RM22.60. However, Watsons is currently having a promotion of buy 2 for only RM38. Each box contains 5 pieces of individually-packed steam eye mask in foil wrapper, so it is very convenient to simply put one in your bag and use it on the go.
Of course, there are some safety measures to follow :
Do not use with contact lenses on.
Do not use with any other eye mask.
Do not reuse the eye mask after it has cooled down.
The eye mask may cause smudging or removal of makeup.
Keep eyes closed and do not press the mask against the eyes during application.
Stop using the eye mask immediately if you experience extreme warmth, pain or unusual discomfort. If eye drop is applied, please wait for a few minutes before using the eye mask.
I would highly recommended this for contact lens wearers because the eyes get very tired and tensed easily. The warmth of this eye mask helps to relax them. No more feeling dry or tired after a long day!
If you would like to try one out, you can request a free sample here.